There are two blogs that I follow religiously. If they left the blogosphere, I would wander around uselessly. Seriously.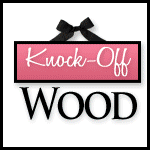 Ana makes woodworking plans.
I have a lot of woodworking books, but a lot of the plans are so complicated to follow (even if it's a simple plan, most plans are just poorly written!)
Ana turns name brand furniture into plans that are super easy to follow!
I seriously needed a new coffee table.
I refinished this one
, because I liked the storage. I wasn't happy with the style. This is something that I would find at my grandma's house.
Anyways, after perusing Ana's site for a while, I came upon a plan for a coffee table. Her version was rectangular, and I needed a large square one. So I modified her base to make a 3'x3' coffee table.
I had ALMOST all the wood already. I dove into my scrap wood pile. I did, however, need 1 8' 2x2 and 1 more 8' 1x4.
I made this:
Instead of buying more 1x4's for the top, I salvaged a neighbor's old broken fence panel that was destined for the dump. Most of the boards were beyond repair, but all I needed was half of each board on only half the panel to be in decent shape.
I cut them to size, nailed them on, stained it with a dark walnut stain, and put 3 coats of poly on the top.
See the wood knots on the legs? I really love the imperfections on the wood. I'm actually going to be distressing the white base soon to accent the imperfections.
I love it!
Sorry for the terrible picture. I was too excited to share this project to clean my living room.
Total Project Cost: $3.74

for the wood that I didn't already have.
This is the first step to a major overhaul of my living room.
I'm not telling what the end will look like. It won't be done until a year from now.
We are spending our taxes on a much needed fence. Next year our taxes will go to renovating this room.