Did I ever tell you how much I love Knock Off Wood?
Have I ever told you that I'm slightly addicted to Ana?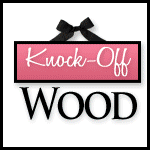 Well I am!
Here's a great little story for you;
My husband and I had our anniversary this Wednesday. Instead of relaxing for the day like sane people do, I decided to get some yard work done. After raking my entire back yard, I noticed my umbrella for my patio table underneath my deck. I hauled it out, slid it through the hole in the table, aiming for the umbrella stand. I must have missed. By the time I noticed my error by the umbrella tipping, it was too late! I shattered the glass. Like a waterfall type shattering! I was almost in tears. I've only had this table for 2 years!
So I pulled myself together and called the only glass cutting business in the area. I love the place! I actually have his business on speed dial!
Anyways, he laughed at me and said, "Honey, it would cost you less to buy a new table than to replace the glass." Ya know, because of the specialty cuts.
So I searched local stores and online. I scoured Craigslist.
Nothing.
Nadda.
Low price=ugly
Pretty=not affordable
Awesome. Great. Grand. What am I going to do?!
Then it hit me. I've made Ana's furniture before. I'll just check to see if she has something that would work!
I wasn't a big fan of the different leg sizes. I also wanted to reuse as much wood that I already had in my scrap bin, so I decided to use 4x4 legs instead. I thought it would bear the load better.
I went to the lumber yard and picked up my wood.
This is the best part guys:
Since I had wood glue, stain, screws, and some scrap lumber,
my total cost for this project was only $16.52!!
Can't beat that, right?
So I cut up all my stock...
I assembled the frame.
I put the supports on.
Then laid my tabletop boards down.
I placed one on top of the other and screwed it all in place.
To make sure that the boards didn't warp with age, I screwed 2 screws into each board on each support.
That's 64 screws!
Then I attached my legs. Ana's plans have 2x4's and 1x4's, and they are screwed in from the inside. Since there are no 4-5" screws (haha!) I just screwed it in from the outside. Wood putty conceals everything as long as you countersink the holes!
Then I attached the braces for stability.
I set it upright, then used a spade bit to drill a hole for my umbrella.
Then I stained it and enjoyed it!
See those chairs? They were given to me by an awesome neighbor last summer. He works as a local school bus driver, and one day he and his crew were cleaning out an elementary school basement. He was able to snag them!
They sat in his basement for ages until he realized that I have a love of all things vintage and handed them down to me!
What a sweet guy!
I love having a piece of my city's history in my backyard!
And I love that I'm finally able to use them! They've sat in my own basement for a year now!
And what luck! He happened to give me 8 chairs, the perfect number for my new table!
And you betcha I'm keeping the writing on the back of these chairs!
I just have to spray poly the crap out of them to make them capable of standing the outdoor weather!
And it's a great size for my "holy crap this is huge" umbrella!
Ugh, the tilting mechanism busted on it. It's always in tilt mode! Haha!
I should probably fix that....
And ya know what?
After building this table and falling in love with it, I realized that my dinky 4 person glass table was pathetic. Why did I like that thing so much?
Holy crap! I found a picture of it in my blog archives! Haha. It was when we were still building out patio!
And unfortunately I can't zoom in and get a decent look at it.
Actually, I do love those chairs, but no longer need them.
I might store them for a while.
I might Craigslist them.
I'm not sure yet.
But I wasn't sad to see this go.
I built this all in 3 hours, so I had the rest of my day to enjoy with my husband!
Thanks, Ana, for the awesome anniversary present!